<div id="wptime-plugin-preloader"></div>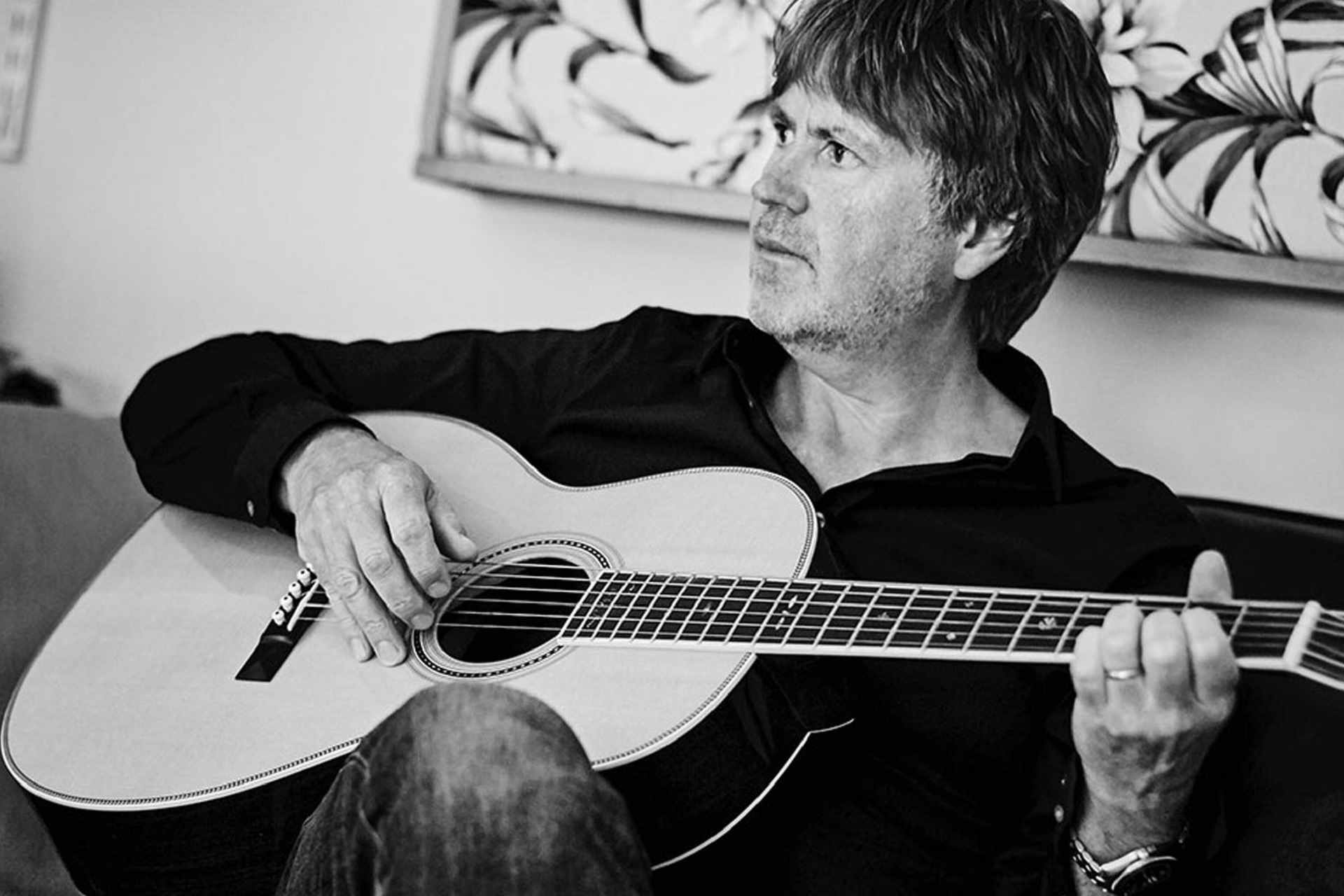 Guy Fletcher was born into a musical family on 24th May, 1960, in Maidstone, Kent. Among his early musical influences were The Beatles and Deep Purple. He became involved in studio engineering in the 1970s and also began to develop his skills on the keyboard. Eventually coming to the attention of Bryan Ferry, Guy joined Roxy Music for their 1981 Avalon tour. Guy first met Mark Knopfler in 1983 when they worked together on the recording of the Cal and the Comfort and Joy soundtracks released in 1984. This was followed by The Princess Bride soundtrack of 1987. Two years later, Guy performed on Last Exit To Brooklyn. Further soundtrack work has included Metroland and Wag The Dog both of 1998.
Recognising his great talent, Mark invited Guy to join Dire Straits as a full time band member for the recording of the Brothers In Arms album, the phenomenal success of which is now well documented. Dire Straits embarked upon the enormous BIA world tour of 1985/86 which touched almost every corner of the globe but still found time to perform on-stage at Wembley for Live Aid in '85. Dire Straits came together again to headline the 1988 70th Birthday Concert for Nelson Mandela when Eric Clapton, a " tricky little inside left", stood in for Jack Sonni on second guitar. Guy collaborated with Mark's old pal Brendan Croker to produce music for the Granada TV series On The Big Hill and is also credited on Brendan's Brendan Croker and the 5 O'Clock Shadows album of 1989 "for services beyond the call of duty."
Guy performed on, and co-produced with Mark, the Notting Hillbillies 1990 album Missing….Presumed Having a Good Time. Mark was originally to produce an album for long time friends Steve Phillips and Brendan Croker and called on Guy to help with the technical side of production. So began the collaboration which led to the formation of the Notting Hillbillies. What started as a small tour to promote the album quickly escalated into a much larger tour than anyone had anticipated. During this time Mark was also picking with Chet Atkins whom he had admired for a long time. This culminated in the Neck and Neck album of 1990 on which Guy was not only credited with playing keyboards, but also bass, drums, and as recording engineer in the studios at Nashville and London.
In 1991 Mark re-called John Illsley, along with Guy and Alan Clark, to put together a new set of songs for the Dire Straits On Every Street album. The following OES tour was large, even by Dire Straits' standards. After the tour Mark and Guy waded through the tapes of the concerts that had been recorded and the final outcome was the 1993 live On The Night album, which Mark and Guy co-produced, Guy also working on the post-production.
A while after the OES tour a Dire Straits Information Service newsletter reported that Guy was possibly going on tour with Roger Daltry and afterwards was to team-up again with old chum Bryan Ferry. The next newsletter, four months later, explained how the Daltry tour was being pushed back so far that it ended up overlapping with the Ferry rehearsals. So Guy opted for the Ferry project and went on tour once more with Roxy Music in 1994/5. Guy was also on television when Ferry performed on the Danny Baker Show which featured Ferry and his touring band playing, amongst others, the hit Jealous Guy. More recently, Guy has toured with Jimmy Nail and has also worked with Tina Turner, Aztec Camera, Chet Atkins, Wille De Ville and Randy Newman.
Guy provided keyboards for Mark Knopfler's Golden Heart solo album and subsequent promotional tour. Speaking of Guy in an interview Mark said: "Yeah, well Guy Fletcher's been on everything I've done since Cal really, which was when I met him. He turned up outside the studio one day with a little keyboard under his arm and said 'Hello', and we just got started on the Cal soundtrack. He is the ever present Guy Fletcher. In fact he wasn't involved on the recording sessions but he's been involved in all the stuff that I did afterwards, and lots of fixing and lots of adding little parts, and he's just a wonderful talent, and he'll be an essential part of the road band." In the credits for Golden Heart Guy is credited with keyboards and backing vocals. Mark ended his many thank-yous with "and the inevitable Guy Fletcher."
During the build up to the Golden Heart tour Mark and Guy went to America to appear in the David Letterman Show and on the 6th of May, 1996, Jools Holland presented a special Mark Knopfler concert in his Later series on BBC 2 which had been recorded in April and was later released as the Mark Knopfler: A Night In London video. Mark played new songs from the Golden Heart album and classics like Walk of Life and Brothers In Arms, Guy, as usual, providing keyboards and backing vocals. Surprisingly, for the song Done With Bonaparte, Guy left his keyboards and played rhythm guitar on a Gibson acoustic. During the Golden Heart tour, Guy played acoustic whenever the band played Done With Bonaparte. Richard Bennett, rhythm guitarist on the Golden Heart tour, formed a Hawiian based band with Guy and taught him the rudiments of playing Hawaiian guitar. Guy first played Hawaiian guitar on stage sitting on a bar-stool at the end of the second Shepherds Bush Empire gig on 26th of May, 1996. The song he played is called Happy Hula Hands. Guy got a big surprise at the first of the two Shepherd's Bush gigs when a large banner was rolled out by fans at the front of the stage. It read 'Happy Birthday Guy' but, in fact, Guy's birthday had been the day before. The fans involved had forgotten to take the banner to the Royal Albert Hall on the 24th of May so they took it to the Shepherds Bush Empire gig on the 25th. Still, they got it right at Shepherds Bush in 1997.
The Notting Hillbillies were re-called to duty in 1993 to play at charity gigs in Leeds and Newcastle, though Alan Clark played keyboards at Newcastle. Then followed another charity performance at London's Grosvenor Hotel in July 1994. There have been numerous charity shows performed by the Notting Hillbillies since that date including one on board the QE2 in September 1996. This was followed in 1997 with a short eleven date Notting Hillbillies UK tour which saw an extension of Guy's rhythm guitar work as he joined Mark, Steve, and Brendan, on stage to play acoustic versions of Denomination Blues and KC Moan playing a Steve Evans made Beltona resonator guitar. July 1998 saw the Notting Hillbillies playing charity concerts at the Imperial War Museum and the Taplow Court Festival together with residencies at Ronnie Scott's: one week in Birmingham and two weeks in London. The Billies have done a six night residency at Ronnie Scott's in London in July 1999. Among the songs played was a much bluesier version of Blues Stay Away From Me which featured Guy playing haunting blues riffs on lap steel guitar.
Guy's close association with the music of Mark Knopfler has continued to the present, whether it be in soundtracks or solo albums. An underestimated, often overlooked feature of Guy's work is his superb backing vocals but then again, as Mark always says, Guy is brilliant at everything he does.
Material published on this web site is subject to copyright and all rights are reserved.
© Mark Knopfler News 2023
Website by Lean Mean Digital Ltd

Material published on this web site is subject to copyright and all rights are reserved.
© Mark Knopfler News 2023
Website by Lean Mean Digital Ltd