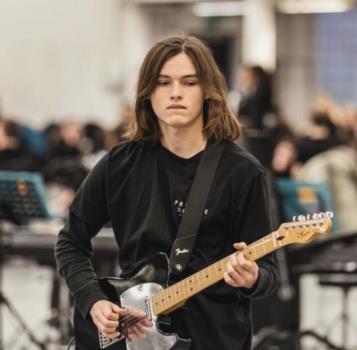 Tommy Stewart's Cowboy Song:
Tribute to dad, David.
TOMMY STEWART RELEASES MOVING COVER OF THIN LIZZY'S 'COWBOY SONG'LOCAL MUSICIAN AND RISING STAR PAYS TRIBUTE TO FATHER DAVID STEWART
London, 17 December 2020 – 18-year-old Singer/Songwriter Tommy Stewart has paid tribute to his father who tragically passed away from Covid-19 in April. Tommy releases Cowboy Song as his first ever single to celebrate his late father's memory. Having won the 'Best Demo of the Year' competition in 2019, Tommy performed on the Acoustic Stage at Glastonbury festival last year and at the opening ceremony of 'One Young World' at the Royal Albert Hall, his Dad by his side all the way.
Tommy, with the help of his brother Jake and his Dad's colleagues: Andy Cook, Jason Elliott, Rowan McIntosh, Eve Morris and Martin Hollis recorded the song at British Grove Studios in Chiswick. Tommy's father David Stewart, set up 'British Grove Studios' in the early 2000's for Mark Knopfler of Dire Straits. In February 2009, it was the winner of the Music Producers Guild Award for 'Best Studio'. Tommy says: "One of my earliest memories is of Dad sitting me down and playing me Thin Lizzy, whom he'd worked with in the early 80's. We then used to play 'Cowboy Song' together all the time, on the sofa or at family celebrations. It sort of became the song that defined his passing; I've always associated it with Dad, but it's nice now that everybody else does too. When we received the dreaded news that Dad wouldn't make it, alongside the knowledge that we wouldn't be able to see him, my brother had the idea to get the nurses to play music to him, needless to say, only one song came to my mind."
In a statement earlier this year, Mark said, "David will be sorely missed, not only by everyone at British Grove but also by everybody who knew him. Our hearts go out to our beloved Robyn and their two sons Jake and Tommy".
'Cowboy Song' released on 17th December: https://lnk.to/cowboysong
CONNECT WITH TOMMY STEWART
INSTAGRAM | FACEBOOK | TWITTER | SOUNDCLOUD | YOUTUBE
For press inquiries, please contact Jono Ball // jono@programmanagement..co.uk
Material published on this web site is subject to copyright and all rights are reserved.
© Mark Knopfler News 2022
Website by Lean Mean Digital Ltd

Material published on this web site is subject to copyright and all rights are reserved.
© Mark Knopfler News 2022
Website by Lean Mean Digital Ltd